Jimmy Hoffa. Big Foot. Area 51. They all pale in comparison to the rumors, speculation and superstition surrounding Slot machines. In a URComped exclusive, we interview a casino manager that sheds some light on the magical and mysterious world of slot machines. In this wide ranging interview we dispel some rumors about slot machines, learn some fascinating facts about why machines are placed in different locations on the floor, and speculate on the future of slot machines. Enjoy!
URComped: Tell me what do you do? What are the most important parts of your job?

Anonymous Casino Manager: Well, my role is in management, in a slot department. The most important aspects is making sure our employees are happy and guest retention. Guests are here on vacation. You're number one thing is to make sure they're there to play, make sure they get what they want. They have so many options, but really what going to stop them from visiting our competition? That's the thing. We always try to ingrain it into our employees' heads. It's like, "You give shitty service, your tips are going to go downhill. Your guest retention is going to go downhill if you don't build that relationship with these people."
Our number one thing is to keep these people coming back, Build that relationship with these new guests, get to know new guests. Even if they don't have a card, treat them as they're one of your big players. Get to know them, welcome them here, and keep them coming back. Do what you can to keep them coming in.
URComped: With slots, how much do you think the product that you guys have differentiates the experience? How much do you think the unique games that you have brings people in versus the customer service?

ACM: Our property is really good about having new slot product. We tend to get all the new games right away. We're like, "What the hell's this coming in?" We have no clue what they are. Then they get set up. We're like, "All right, we've got new ones to learn." We've got so many people come in, and they just love our variety of games.
Many big casinos have central purchasing. It's the company. They order X amount of games from Bally, from IGT, Ainsworth. Where smaller more independent casino brands, they have an easier time to get games from these smaller companies, get a better variety and keep the floor fresh and new. I think just feedback from the guests alone shows that people love that. People love their old games, but they also like to see something change.
That's what we're seeing with the younger, millennial crowd is they like the new games that are constantly coming in. You have a lot of young people come in there and play. You see a younger crowd come in that are actually looking to game and not just to party. I think just having the variety that we have on the floor is huge, especially in this town, when you go to pretty much anywhere and it looks like the exact same property just a different theme.
"Bring me something new!" says this angry slot player. Variety is key.

URComped: That's really interesting. Then you mentioned a new game comes in, it's, "Aw, man. We've got another game to learn." How much do you and your employees have to learn about a new game, and how difficult is that process?

ACM: Well, one of my former coworkers always said the best thing. He's like, "A casino is like a grocery store. I know we have a certain product, but I don't know all the ingredients inside of it." It's like we know we have the game, but we don't know all the bells and whistles in it, all the instructions, all the bonus rounds and everything. We tell everyone (employees), "If you see something new on the floor, get to know it. Spend as much time as you can just to get to know everything because you're the professional. You're the people that guests are going to ask and look for answers. If we look like we have my head up our ass, you know, we don't what the heck we're talking about, it doesn't look too good." We spend a lot of time with our techs and with our tech managers, and they kind of go over it with us. We can check out money to play with it and play the games to get to know them with the employees. I think when they hit the floor, it's very important for us to know what we're offering our guests.

URComped: Is it ... Does it get on in the details? Do you get down to, like, the bonus round is like this? How specific are you getting with some of these games.

ACM: As much as we can. You'll still run across a game where someone's like, "Hey, this didn't pay me." It's like, "All right. Let's both sit down here and read the directions and see what it is. We have a lot of different games. We want to make sure you're getting paid correctly." I've still yet to see one not pay correctly because, obviously, it has to go through the gaming control board before it even hits the floor. It's got to be working properly before it hits our floor. That's the main thing. We tell people and assure them, "It's paying properly. Let's walk through it with you and make sure you have an understanding before you leave saying, "Hey, they're trying to cheat me."
I'll admit it to guests, too. It's like we have so many different games on the floor. I know probably 90 percent of what each game ... What it takes to get a bonus, what it takes for a pay, but there's still that little aspect, little 10 percent in there that is going to be a curve ball, where you're like, "Well, I thought I knew everything, but apparently I didn't." There's always a reason of why they didn't get paid or why they got paid. It's just a matter of digging, and it could be very deep.

Become a URComped VIP for access to exclusive offers and events at casinos and cruise lines around the world.

URComped: What is one or two things that either you in your position or your employees can not screw up when it comes to the slots department or you're in big trouble?

ACM: The tax forms, the jackpot process, the controls. Focusing on the jackpot process: We've got to make sure it belongs to the right person, they have valid identification, we follow everything that Uncle Sam tells us to do. That's a big thing. You'll get people, specifically from other countries that come in. We pull 30 percent taxes if they're from a non-treaty country. They think we're straight up robbing from them. It's up to our employees to educate and let them know, show them the paperwork on why they're getting taxed, what the reason behind it is. It's important for them to follow through on all the paperwork, make sure we have everything prior to paying the guest. Also, it's making sure they follow the internal controls of the department, of the Gaming Control Board. Everything gets set in place a certain way. If you stray from the path of what you're supposed to be doing, that could cause a big problem. I guess it's just making sure guests are taken care of properly with tax paperwork and with following rules and regulations are the main things.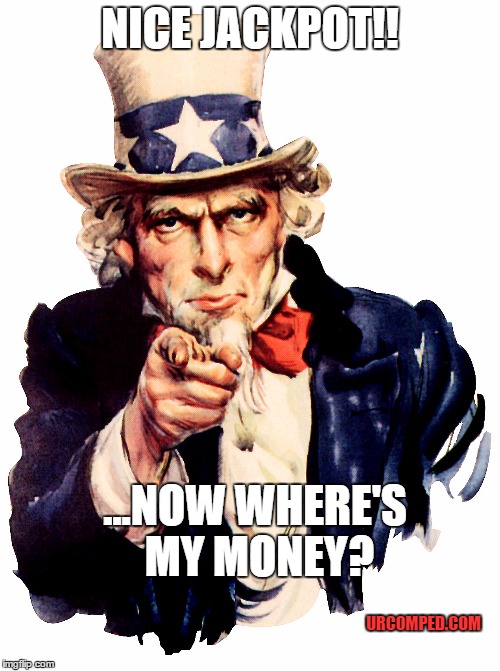 Top priorities for the casinos: keeping customers and Uncle Sam happy.

URComped: It seems like the last couple of years the casino industry is freaking out about millennials, that they're not gambling, that it's changing the industry. What are your thoughts on millennials?

ACM: I don't know. It's going to be weird coming up here in the next couple of years to see what changes. I think this industry is very slow moving when it comes to changing. I think this is stuff that should have been addressed at least five years ago, maybe 10 years ago. They're seeing the change of technology, what the trends are with technology. Right now you're seeing people millennials that are early mid 20's, late 20's. Everyone is trying to get them in the casinos. The big draw to them are the shows, the restaurants, and the clubs, the day clubs with the pools. It's just hard to come up with something that will draw them onto the casino floor.
That's where you see a lot of hands-on games that are skill-based. That's going to be the new great hope of casinos... It's great to see that, but, again, it also has to do with the Gaming Control Board, what do they allow, how quickly they will let stuff pass through to hit the casino floor. I think it's something that should have been addressed years ago. It's kind of slow moving. I don't know what they can do to really catch up. I saw some games at the show that are interesting, but I just don't know how it will work with the millennial crowd. That's something I've been looking into a lot. It's kind of like, "What are they doing to focus on that new clientele?" How about you? Have you seen anything with that?

URComped: I don't know. Part of me subscribes to the theory that millennials just ... They're not as wealthy as the generations ahead of them. So many of them came out of college in 2008, 2009 when there was literally no jobs. Pretty much their whole lives. Maybe now they're starting to get more discretionary income. I think it could be just that they don't have money to gamble. With the limited funds they have, they'd rather go to a club and get drunk and hopefully get laid and not set aside 1,000 bucks to put through slots.

ACM: Exactly. That's the whole thing, too, is you'll see ... Like I said earlier, we see a younger clientele walking through, but they're throwing in $20 here, $100 here in the machine just to try it out. You don't see them sitting there for six, eight hours in front of the old double diamond, three reel games and sitting there for six, eight hours like you do the people in their 50's and 60's and beyond. It's the whole attention span. People like the bonuses. People like things that catch the eye, not just three reels going around. That ties back with our variety of games, that we have so many different games that appeal to different age levels, I guess. But again, I don't know what the hell they're going to do about millenials.

URComped: I don't know either. I can't imagine, even at our age, in our 30's, I'm past the age where I want to go to a club. If I go to Vegas now, you'd catch me at shows and restaurants. Yeah, I'll spend money on that, but I'm not going to Tryst Nightclub or Tao or something like that. It has zero appeal to me. I've got to assume the millennials at some point will graduate from clubs and start gaming more.

ACM: Definitely. That's the thing, and I think that ties into table games. Table games is still going to be that draw. Some people are afraid that it's going to go away, but I think that it brings the excitement of the casino. You pass a table game and there's still a lot of younger people that play there like 21 in craps. Those are the top games that people, the younger crowds I guess, 21, 25 will play. They get instant gratification, they're cruising through, it can deal hands quick and it's an adrenaline rush.

Blackjack will always be a draw and "buzz generator" for casinos.

URComped: The skill based gaming will be interesting to see if that takes hold. I actually went to G2E last year and played some of those skills based games. Some of them were pretty lame, a couple of them were cool, but we'll see if they get any better.

ACM : Actually, there's one I heard about that sounds cool. It's a cabinet that looks like the old Pac Man. You know the game where you're sitting at the table?

URComped : Yes.

ACM : The two player game like that. They were looking at putting that game into one of their bars in the lounge area. It would be cool to check that out to see. You have the girls dancing up there, you have the bar, you got the DJ right there. You already have the seating, let's throw a game in there, that could be a table and gaming combined. It's all about trying things that involve thinking outside the box.

URComped : Yeah, that's actually a good call. It's something more entertaining [to millennials] than video poker.

ACM : Yeah, exactly.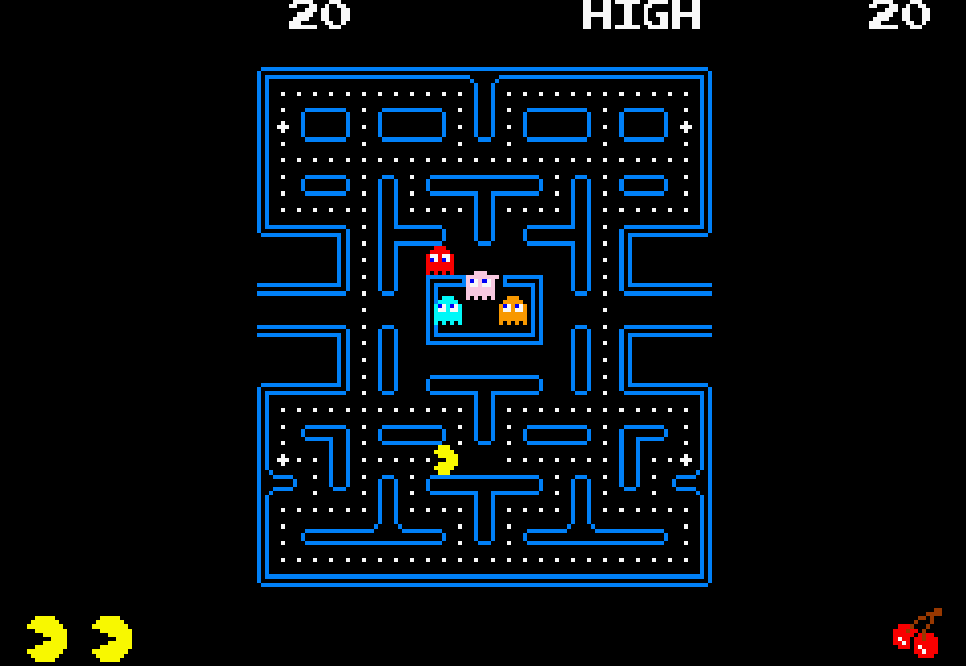 Coming to a casino near you!

URComped : Are there any other cool innovations that you've seen either from manufacturers or at the property level that casinos are doing cool innovations that you think may take hold and become more widespread?

ACM : If you go to the [newer properties on the strip] and you can go in in their high limit room. They have the self-pay jackpot feature, which is huge in the slot world. That is, you go to their rewards club, you sign up first, you tell them, "Hey, I want to do self pay, I want to get set up for that." They go through the paperwork, they give you a pin number and it's all linked to your player's card.
You go in the high limit, you start playing a $100, $500 game, whatever, something that constantly hits jackpot. During your play, you don't have to even talk to an individual unless you get a jackpot above their threshold which is usually like 50K to 100K. That's when it locks up to get verification. Other than that, you hit 1,200, you hit 5,000, it will lock up the game, you punch in your code on the screen, it automatically goes to your credits and the appropriate forms get emailed to you.
It's an awesome feature, I mean you can have people on high limit and you can have one slot attendant in there. You can have your highest end guest and they're playing and you don't have to do anything. You're talking with them, taking care of them, but you have nothing on the jackpot side. People love that because then they don't have to stop and break their rhythm. That's a great technology. It's expensive as hell, but I mean it's definitely in a property's best interest to have that.

Do you enjoy slots? Want to play them somewhere new and exciting?? Join URComped.

URComped : That's fascinating, I've never heard of that.

ACM : It's awesome. The other cool thing to look out for are innovations in the players card reward systems. We are turning into where half the screen you can put a new player card and it recognizes what channels you like to watch. You got a little monitor at the bottom of the screen, you got your ESPN in there. You got NBC, you like TNT. You are going to put your card in there, it's going to go with your favorite options for TV, you press a button so you are watching the game that you wanted to watch and you can gamble while in one location.

These newer properties can do it because they are starting from the ground up, but it's just hard for these older properties to go back in, revamp their systems and getting total upgrade because that costs millions. Every year, you're having to come up with something even better, so it's just hard to keep up with that technology and make it cost feasible.
URComped: What about the growing popularity of automation in table games? It's like a mash-up of slots and tables.

ACM: It's slot machine and table gaming combined. It's already live in the field with baccarat and roulette. You could have 30 or 50 [betting terminals] and it's on a video screen, but you're seeing a live dealer and live cards being dealt. I have played it at the Palazzo and Palace Station, but I am not sure if anywhere else has it.

URComped: Well, how does it work? I mean, is the dealer actually dealing 50 spots, or it's like 5 people are betting on one spot?

ACM: You could have the whole thing full. In Baccarat, let's say there's 45 seats available. Every one of them was full, you have one dealer dealing, and they bet on that hand. They bet either for the player or the banker. They're putting their bet on that, on just that alone. Then the can also play player tie, banker tie or just a straight-up tie on the board. There's five different spots they can bet. You could have one dealer dealing multiple hands at a time. The player can bet on multiple games, so there's always action going on.

You can actually click on each screen, and it will bring up big. You bet, click on the next one. It shows it there and so on and so forth. You can bet quick. It's nonstop action. You just go at your own pace because they're constantly dealing.

URComped: The slots department would handle payouts?
ACM: Yes, I believe so.

URComped: I imagine inexperienced players like it a lot because a lot of them don't play tables just because it's kind of intimidating. They don't want to screw up a blackjack play and the rest of the table pissed at them.

ACM: Yeah exactly. The instructions are right there. You're not messing with anyone else. You don't have to sit down at a table of people professionally playing and know the game, and you're trying to learn it. You can play it on your own at a minimum bet of $5.00 a hand instead of finding a table that's $25.00 a hand to try to learn on. That could be an expensive education.

In video blackjack, people will get comfortable with the system, get comfortable with the game, and then they'll move to live tables. Or else they get stuck on these and they love them. It just gives people another option. It's the whole millennial thing. It's the less contact, more video play, more ... It's the instant gratification of being able to sit down and be in the action immediately. Plus, the newer games coming out have phone chargers on the machines which millennials love.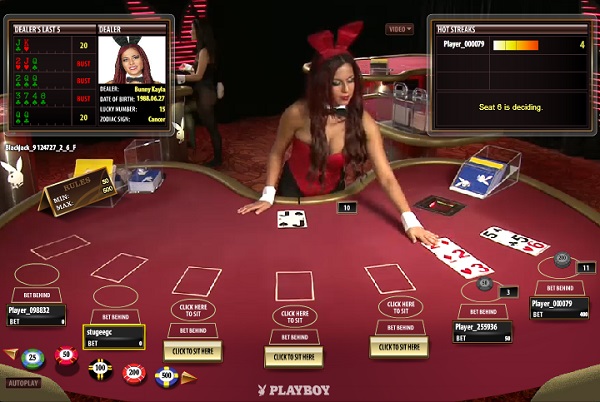 Based on Google Image results for "live dealer blackjack machine", cleavage seems to be a pre-requisite for these dealer jobs.

URComped: Really?

ACM: Yeah, you can charge your phones right there. You can do all that, and cocktail waitresses come around. It makes it super simple now. People don't have to wait for a table, don't have to deal with someone smoking next to you.

URComped: Yeah. I guess the big downside, you brought it up earlier, is the potential job loss. That's one of the best parts about a casino, I think, from the economy perspective is it requires so many real humans to service players. That is kind of a scary ... What's your feel from other employees? Are they worried about these games?

ACM: I think people initially are concerned about them because they're like, "That's the future of gaming." I honestly don't think so because tables ... Tables, in the scheme of things, like a blackjack table, doesn't hardly cost anything for the casino. But it's there and it's a draw. People are going to come for the live table game. It's never going to disappear. There are certain properties that don't have dealers at all. They have the video terminals. Like, was it in Cherokee in North Carolina? They have terminals. That's something with their gaming regs or whatnot.
Your draw is table games. I don't think that'll ever go away. It may fluctuate a little bit, your staffing levels, but I honestly don't think [live tables disappearing] is going to be the wave of the future as some people think. You're going to still need those dealers. You walk around the pits in any of these casinos on any night of the week, and it's busy. That just kind of creates the buzz and the vibe of the casino. I don't think casino are going to take tables away and risk losing that buzz for as little as those dealers get paid.

URComped : Do the sales reps from these manufacturing companies, are they wining and dining you a lot? What's that sales process like and at what level is it happening?

ACM : They ask us for a lot of feedback like: what do we hear from our guests? what do we see other places? is there something out there that we'd like to see on the floor? They ask us a lot, but really the purchasing goes through procurement. If procurement gets a really good deal on a game we'll probably see it on the floor.
There is a lot of communication between the levels of management to find out what people want, but ultimately, do we have a say? No. [laughs]. They'll just show up on the floor. We get an email, "This game is coming in, check it out. Here it is." Other than that, we really don't have a say too much.

URComped : Do the people that go to work for an IGT or WMS [slot manufacturers], are they generally people that worked on property and they get recruited over?

ACM : Usually the opposite. A lot of people come from a sales background and get into IGT or all those manufactures, then from there they'll jump over from sales to the operations part of it in a casino. That's where I've seen a lot of people move. But it does go both ways. You'll see someone leave and next thing you know they're selling for some up and coming gaming vendor.
It goes back and forth, but also you look at all these new cabinets that come on and you obviously know these designers have never set foot or played in a casino or fixed a machine or work on one at all. Because there's never a cabinet for these games that are worker friendly, they are absolutely terrible. It seems like they keep getting smaller and they keep getting more impossible to fix quickly which is odd. The old cabinets were wonderful. You could open them up, you could work in them and fix them quickly. But now for a smaller footprint, you can fit more on a floor but you are going to have the same components all jammed in there and it's a pain in the ass [to work on].
A couple years ago there was a gaming show and we had a meeting with a rep from [slot manufacturer]. He was showing us around their new games. First thing I said when we get over to him was, "With all due respect, this is a f'n terrible cabinet." He's like, "But why?"
Where are people going to hold their drinks? Right here, right? Take a bottle of water or my beer I'm holding right now, tip it over. Look it drains right into your bill validator and right into your ticket dispenser. It will fry all your components in the game with one spill."
He's like, "Oh." Stuff like that that they don't think of it in the live environment.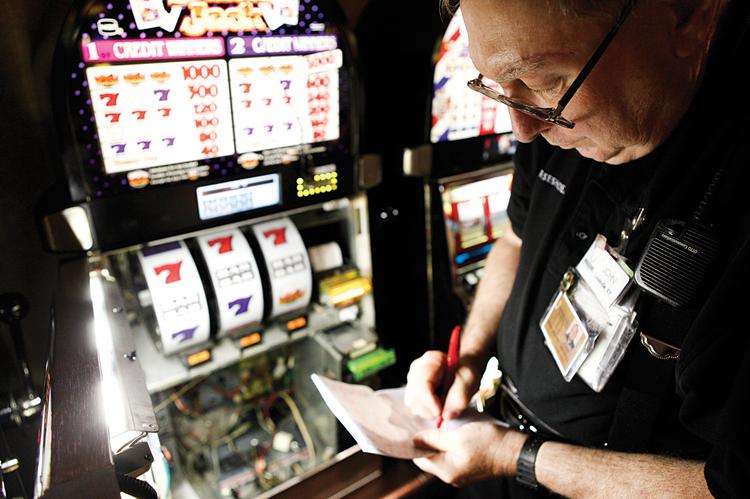 Good design can help machines get up and running faster (and prevent damage in the first place).

URComped : [Laughs] That's fascinating. It sounds like these new designs may be bad for people that have to fix and maintain the machines. So are these designers one hundred percent focused on the players perspective?

ACM : I think they do look at the players eyes like the ergonomic of the game play I guess. Like how it's going to feel, if it's comfortable sitting there for hours, if it's going to feel good for a guest, but the whole thing is you look at it too, you look at some of these games and they take up so much room.
URComped: Like the old wheel of fortune machine with the giant wheel in the middle that takes up a ton of room?
Balancing WOW factor and revenue per square foot is always a difficult decision for slot floor designers.
ACM: Exactly. I think a lot of these manufacturers, they want the big grand machines that are eye catching.
It's opposite of like a Goldfish machine, that's very small and people will seek those out no matter where they go. Or Jackpot Party. The games, they are old, they are small and people still love them. They are like, "Where are they, where are they?" And it seems like you cannot find them enough. Buffalo, those are small games and people chase them, they are always busy and it's a small footprint.

URComped : That's my mom's favorite game. She loves the Buffalo. Let me throw a good question. What single game, if you removed it from your casino would incite a riot? What game has the most loyal following?

ACM : Probably Buffalo. Probably that or any Wheel of Fortune. Like Wheel of Fortune quarters and dollars and Buffalo I'd say are the top ones. They've been around forever, especially the Wheel of Fortune and people go irate if they can't find what they're looking for. IGT has got a foot hold there [with wheel of fortune]. Because they charge a daily percentage I believe. A daily charge for each individual Wheel of Fortune unit a property has on their floor. No matter if its in service or not IGT is getting paid regardless and so that's the thing.
They have a wonderful thing going on because that machine makes a shit load of money for the properties, and yet they are still getting paid. That's one game that will never go away because it's such a good money maker for the company itself. They'll always come out with new cabinets on those, they are ever changing.
Expand your casino travel options. Join URComped for free.

URComped : Interesting. I got a couple more questions from people from the Slot Fanatics message board. Are casinos seeing the effect of lowering the payback percentage on video poker games. Are they being played less as pay tables or lowered?

ACM : The pay tables, they do fluctuate, like you have one game with a different payout that's sitting right next to the other one. Being on the Las Vegas strip, you're going a lot lower pay tables than what you will in a local joint. It does have an impact because people know what they're looking for, people know what they want to play.
I run into a lot of people at our place that come in and say, "What the hell is this?" And we have to say, "Unfortunately, I don't set up the pay tables on those." "This is BS, I'm going to go elsewhere." We lose a lot of business on that. But you get a lot of people come in and they don't even care what the pay tables are, they just want to play some video poker. But I definitely could see the pay tables do have an effect on your clientele
Ultimately, the house isn't making a lot of money on video poker. It's the game of choice instead of the game of chance.
But to sum it up, places are going to feel it because the people do know what they're looking for and if they don't see it, they're going to seek it out elsewhere for a pay table.

URComped : This next one is really interesting. How do you determine the makes of own those leased game on the floor?

ACM : That, I don't have any say in. All properties are different, some will rent machines, while others will opt to buy machines. When you look at those [big popular game, had to hide the name to keep anonymity] games, actually we own our machine which is strange because I think we are the only property in the State that actually got approved to purchase them, because it's a game that never gets bought. I was shocked to find out that we actually own these particular games.
I think it's important for a company - if you have the capital available in the budget to turn around and purchase games because obviously over the lifetime of that unit, you're going to keep that on the floor and make money on it hand over fist compared to paying a rental fee on that game.

URComped : Just out of curiosity, do you know how much some of these games cost to buy?

ACM : Anywhere from ten to 40 grand. The giant games, you've probably seen them, it's like Big Bang or the Buffalo game, they're 80 inches and these monitors, they're special monitors. If you break one of them, they're 25 grand for the monitor alone (info from vendor @ G2E).
WARNING: Do not break this monitor.

URComped : Oh, crap.

ACM : That's the one that we wouldn't buy because the parts are just that alone, and it's not cost effective. You have one bum monitor and you're shelling out 25k for it to get this game back up and running and that could have been two small Buffalo game you could have purchased.

URComped : Are you now seeing that things are trending back to more reel and stepper games or still playing more video slots?

ACM : I think people are definitely playing more video. It's sad to see it because I like the old three wheel games, and you're starting to see them get phased out. [The old games] are getting the more flashy, colorful, animation video game makeovers. Even the old wild cherry games, they're coming back in there but they're animated. I think that's phasing out your older players that are used to the one arm bandits, the coin machines. A lot of this is not by choice [of the casino] because a lot of people like these older style games but the manufacturers are forcing the phase out of these older games to the newer models.


URComped : Yeah. With so many slot manufactures fighting for casino floor space, how do you figure out who to put where, and how many of those games?

ACM : It's based on floor layout and the psychology behind it. Usually there's an individual that will do the design. That's why you look at each casino floor within a brand and you can tell who is the [designer]. The different gaming companies may have a similar layout on the floor but they will still vary due to what type of clientele they are aiming for and what will work better for that property. The Wynn layout will be different than the Planet Hollywood layout. They find it at different layout that works better for those properties, for that age group, for that psychology.
We're going to take our own games, the ones we own, and put them right in the front row. That way when people walk in the door they'll stick money in the games that we own. That's why you look at casinos, you walk around you see the placement of these Wheels of Fortunes will be back in a corner where no one usually would go, but because it's the Wheel of Fortune, or a video poker, they'll go sit back in a dark corner that no one else would go. People will seek out the games and that's what I found fascinating. You go from casino to casino, you're going to feel for how that floor layout works. . Also, based on where games are placed, you can really have a good guess of who's charging more for floor space and what not.
They're different how the banks and machines are set up compared to long banks compared to just pods There's a whole science behind it which you don't think of. But it's quite interesting when you go from property to property.

URComped : Got it. So talking about property, there are different dealers, but the property will put their most possible games front and center.

ACM : Yes and I also think it all depends on a lot of these new company's law. Will say, "Hey, I'm only putting my game in your casino, I'm not going to charge you anything for two months. It's all you, let's see how this thing does on your floor." They're like, "Its a brand new game, they're not going to charge us to have it on the floor," so that was put in writing, we'll get people planing but as soon as that two months is up if once we start getting charged, they'll take that game, put it back in the corner, and see how it does.

URComped : Because otherwise, you'll say, "Hey, it's just not doing well you either need to lower the rent or we're just going to take it out."

ACM : It's a game that I never knew existed. If it's fascinating, that's the whole cat and mouse game, I didn't know that there was that involved on planning a gaming floor, with the purchasing, with the leasing of units. It's just funny that you can ... I hate walking around casino now because I can't enjoy it because I'm too busy looking around the layouts. Figuring out where the prime spot is, what games are probably charging the most. That's really interesting to me.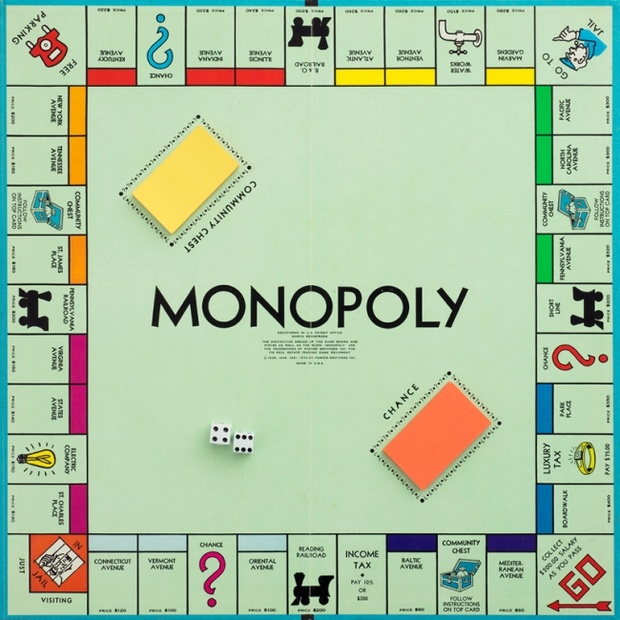 The slot floor is a lot like Monopoly.

URComped : I've never heard of that. I will start paying attention now too! Is the featured spot like right when you enter the casino, is it outside of the show or what are some of the featured spots?

ACM : A lot of target areas. Like you said, right by restrooms where people wait, right by the front desk, is any high traffic zones like right outside of a restaurant, people come out and have a cigarette, and they'll sit down a play machines or anywhere that's a lot of foot traffic more or less, each property will be different though.
I have been involved on a few grand openings of properties. I went over and we built it pretty much from the ground up and we were involved when they were placing the games. It was a multi-floor property. The first floor was all these bright tall games that was just inviting as hell.
You go up to the second floor, same type of deal and that's where a majority of the table games were but also we had this corner that was dark, low ceilings, it was perfect for video poker. It's quiet no one's going to be coming through here all drunk, it's going to be quiet and it worked out great.
Then you get a new director whoever is in charge of that comes in and they may revamp the whole floor and try different things that might work better for that situation, it's crazy.

URComped : That is interesting and does it make a huge difference? Have you been through any major floor layout changes and did it actually impact anything?

ACM : They are always trying something different. Like our slot techs, they are saints.
It's always the slot tech team that moves all the games. When we leave they are tearing down and it's like, "What the hell are you guys doing today?" "Taking this game in this bank and removing it over to this bank" which is just like 15 feet away. They're flopping banks just to see where the coin in is higher for those particular games. It's just constantly moving to try something different. Half the time you look at it, "Jesus, they're just moving shit to keep people busy." But it's moving stuff to try it and it's been in this spot for two months, it's not doing as projected. Let's try it over here and see if this is better placement. It's just trial and error. I haven't seen a major revamp of floor layouts, it's just moving stuff around bank by bank.

URComped :How often are payback percentages changed on individual machines and why are they changed?

ACM : That I don't know. They are never messed with because you have to stay in the parameters of the game control board and what they have set up. Again that stuff is done with the performance side. We don't really have a hand in that, we don't mess with percentages or have any input on that, that's based on X amount of games can be set at this and that, but they all have to meet guidelines of the gaming control board and that's where gaming can come on property at any time say, "Open this game let's check the percentages on it."
If they find that it's out of the parameters, they'll pull your license, they'll shut you down, that's why they take it very serious that each and every game is within the guidelines. That's where you don't have much flexibility because each state will have the gaming control board that has set guidelines. gaming control board scares the hell out of casinos to keep in proper parameters which is a good thing!
People are always out saying we are screwing them, we are trying to cheat, we are trying to take their money. We don't mess with the percentages on the games. A casino will lose its license straight up and that's something no one is willing to mess with. They keep it very legitimate. If they want to change something on payouts they have to go in there actually physically change the percentages and they are not going to do that on games weekly or daily or anything like that.

URComped : Is videoing of one's own slot play permitted or not and why? How common is that?

ACM : We ran into it a lot, with our employees we tell them videos in the casinos are not okay. Pictures are fine of slot machines, but video on any part of table games, any video of the ceiling with surveillance layout is not okay. Any time we see someone walking through with a phone you can tell their video, we're like, "Hey are you taking a video?" "Yeah." "Knock it off you can't do that." I'll tell them it's not permitted to video tape inside a casino. You want to take picture by slot machines, have at it.
It's not okay to video because you can see the layout of the surveillance on the ceiling and you can see everything like that about table games with dealing the cards and potentially counting cards or anything at least to an advantage like that.
Slot machines the pictures they don't care at all, it's a random number generator. A picture is not going to change the outcome of a slot machine and it's also a good memento to have, let people do that and take home with them, we encourage it, "Yeah take as many pictures as you want."

Want to add more stamps to your casino passport? Try somewhere new. Join URComped today.

URComped : Is there anything else we didn't cover that you think our readers would like to know or find interesting?

ACM : Just the whole thing. The host isn't there to screw you, the employees aren't there to screw you. I always tell people it's like, "I want you to win," we are here having fun we are here to take care of you, if we pay you more money that means you're going to be more excited to be there, you're going to be happier to be there. You're not going to be yelling at me, or me at you. I'm on your side, I get paid regardless. I'd rather have a person win a jackpot, than have them come in and lose all their money and never come back and see us again. That's the misunderstanding about people that work in the casino – we aren't against the player. I love when people win jackpots it makes my job fun and we are rooting for them.
People are like, "Yeah, yeah bullshit." Honestly, we like to see people win, that's what keep us going. People are going to keep playing, people will come back, but only if they win sometimes. When I go out and play I want to win, I don't want to just donate my money and that's the whole thing. Not everyone is out to get them, we [the employees] are here to have fun too.

URComped : It's nice of you, you tackled some of the misconceptions because a lot of people you see on the forums they are just talking and they are like, I think They'll think they can change the pay table, half way through a game or based on our day-

ACM : Right, people talk about days of the week and they are, "Monday has much better pay tables." Honestly when you sit your ass in that chair, you pull that handle or press that button that's the outcome of the game. I'm not a huge gambler by any means but, I'll go out for 20 bucks here and there and then have drink. I can't win shit no matter what day of the week it is or anything whatsoever.
That's the thing, it's just being in the right place at the right time. I've seen people put in tens of thousands of dollars in a matter of 20 minutes and not win shit, and we've seen someone put in $20 in to a wheel of fortune and hit multimillion jackpot. It's called being in the right place at the right time, it's playing the lottery but it's on a smaller scale sometimes. That's the thing, we take our jobs seriously, nothing gets changed on the fly I can assure that I've worked in many casinos around the country and that's something you don't mess with.
That's something that they take extremely serious. Look into the things that you get a lot of questions about and a lot of accusations about, we are trying to screw people. No we are not here to screw you over, we want you to have a good time.

URComped : My mom, she's convinced, and I tell her she's freaking nuts, but she's like, "When I take my player card out, that's when I win." I don't know what her logic is, but she's convinced that winning and losing is tied to her players card being in or out.

ACM : We hear that all the time. There are two completely different systems. The tracking system on a machine is independent from the game itself, it just tracks the coin in and the coin out doing all that. I tell people play with your card you will earn a lot of points, you will earn stuff to actually recoup your losses. Play with your card don't be crazy.

URComped : This was fascinating. Did you enjoy it?

ACM : Yeah it's fun talking about that. It's nice to get the word out to people.

URComped : You answered a ton of questions that have been around for years. Thank you so much!
Did you enjoy this article? Join URComped to be first to know about our exciting articles and behind-the-scenes interviews.
---